Learn more about some of the charities we have supported and how they have used their funding

The 2 Minute Foundation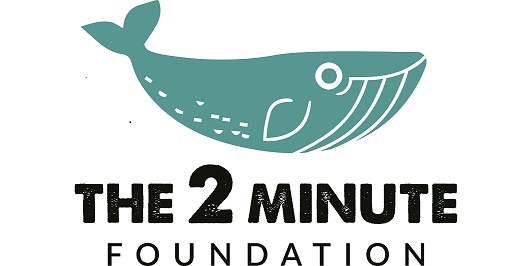 The 2 Minute Foundation's aim is to see a world without plastic and litter pollution and to change the way we relate to our outdoor spaces. They do this by inspiring, educating and enabling people to clean up the planet, 2 minutes at a time. They recognise the links between the planet's and our own wellbeing and the benefits that spending time in 'Blue' space and taking actions that benefit the planet can have on our own physical and mental health.
The grant from SHCJ will help the charity host over 1,000 children and young people at Beach School in 2022/23. Beach School provides teaching and inspiration to children and young people, many of whom may not be in mainstream education due to mental health and behavioural challenges. It helps clean up local areas for all to enjoy and helps to inspire a love of the coast and ocean, developing the next generation of ocean advocates.
"We are delighted that the Society of the Holy Child Jesus chose to support our Beach School programme delivered directly on the beach in Bude. Beach School is making a direct impact, increasing young people's climate literacy and actions to clean up the planet, whilst showing them how nature and a deeper connection with the natural world can support their life-long physical and mental health. Thank you.'  Sarah Shaw - Head of Fundraising & Partnerships

Baobab Centre
The Baobab Centre (London) was formed in 2008 by a group of experienced human rights workers who identified many unmet needs in the treatment and support offered to young asylum seekers and refugees who have been forced to flee their home countries because of conflict, war and human rights abuses. Baobab is a non-residential therapeutic community that supports young, unaccompanied asylum seekers who have experienced extreme human rights abuses, such as torture, rape or trafficking during their developmental years. The Baobab Centre offers a holistic and integrated specialised service, providing psychotherapy, casework support, assistance with housing, healthcare and education, as well as advocating for justice for all in their position.
SHCJ provided a grant towards core costs will help the Baobab Centre support between 70-80 young refugees and asylum seekers from across London during the year. Their holistic support will move young people forward in their development and help them to thrive as adults in the UK.
"We are grateful to the Society of the Holy Child Jesus for their generous support of the Baobab Centre's work with young asylum seekers and refugees. We work with young people who have experienced some of the worst things humans can do to each other, in their home countries and on their journeys seeking refuge. These experiences are often then compounded by the 'hostile environment' they then experience in the UK. Baobab supports these young people to develop old and build new resiliences through holistic care, including psychotherapy and practical support. The support from SHCJ is both essential in ensuring our work supporting the young people in our community can continue"  Rosanna O'Keeffe - Operations Manager

Crosslight Advice

Crosslight Advice is an independent, community-focused charity working to alleviate poverty and hardship through the provision of comprehensive debt advice and accessible financial education. What sets them apart is the person-centred, 'holistic' approach to their work. They look beyond the immediate crisis advice with the aim of meeting individuals at their point of need and walking with them to full restoration, however long that takes. A strong Christian ethos underpins their values and they work closely with local churches to support any adult client who is struggling with practical needs regardless of their background, ethnicity, sexuality, religion, age or any other factor.
The grant from SHCJ will support the ongoing work at Crosslight Advice to alleviate debt poverty by supporting around 1,500 people with debt advice and budgeting over the next year.
"We are really grateful to have the support of SHCJ at a time of unprecedented challenge for so many of the individuals and communities we work with. We are experiencing growing demand as the cost of living crisis takes hold, and the support from SHCJ will help us continue to be able to walk alongside those who are struggling."  Bruce Connell - Chief Executive

Hope at Home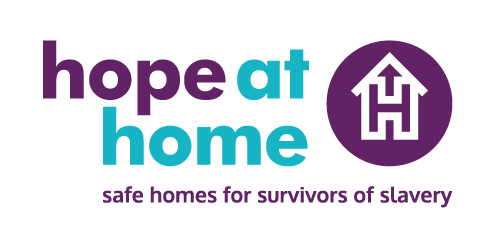 Hope at Home (UK) provides safe homes and holistic support for survivors of human trafficking and modern slavery.
Founded upon Christian principles, they provide safe and secure accommodation for survivors of modern slavery. They have established a growing network of volunteer hosts across the UK who welcome survivors into their homes and provide much-needed stability at a critical time. When survivors find Hope at Home, they are at the early stages of dealing with past traumas and are incredibly vulnerable to homelessness and re-exploitation. Hope at Home is open to all survivors regardless of a person's country of origin or ethnicity, sexuality, religion or disability. They believe that a safe and secure home environment is essential for all survivors as they begin to rebuild their lives.
The SHCJ grant will help Hope at Home to scale up their solution to the housing crisis facing survivors of human trafficking and modern slavery in the UK.  Providing safe accommodation alongside person centred support, significantly improves positive outcomes for survivors and markedly reduces the risk of re-exploitation.
"Thank you to the Society of the Holy Child Jesus for your compassion and support. Core funding from SHCJ has meant that Hope at Home has been able to grow our services and ensure that more survivors of modern slavery have been able to access safe and supportive accommodation as they begin to rebuild their lives. SHCJ's support has been vital to helping Hope at Home navigate through the aftermaths of the Covid pandemic and the continuing cost of living crisis."  Duncan Wilbur - Fundraiser

MYTIME Young Carers
MYTIME Young Carers (Dorset) aim to level the playing field for young, and young adult, carers ages 5-25. They work to provide support, opportunities and friendship that every child needs in order to thrive. A young carer is a child, just like any other, but they are responsible for the care of at least one relative. Childhood caring responsibilities can take their toll on mental health, academic progress and prospects and young carers are often hidden or forgotten within society and left to tackle these issues alone. Through their Making Memories Programme, the Level Up Programme and the Employability Programme, MYTIME offer a holistic package of support. They aim to improve the long-term mental and physical health and wellbeing of young carers, and to support them through education and into employment so that they are able to achieve their full personal, academic and professional potential.
The grant from SHCJ helped MYTIME increase the reach of the Level UP Programme over the last year. This Programme is delivered through primary and secondary schools and is designed to equip schools with tools and strategies to be able to better support their young carers reach their potential.
"The Society of the Holy Child Jesus contributed generously to our Level Up Programme. Through this programme, we work with schools to identify hidden young carers and to create the supportive and inclusive educational environments where young carers can thrive. The grant made to us by SHCJ enabled us to work with 40 schools in total, and through these, to support an estimated 800 young carers. As a charity, we receive no government funding at all, so this work simply wouldn't have been possible without the support of SHCJ. We are so grateful to them for believing in us, and for empowering us to be able to make such a valuable difference to the community we serve." Penny Day - Director of Fundraising and Communications

Providence Row

Providence Row helps empower the most marginalised homeless people in London.  They help their clients overcome severe disadvantage, helping them get off, and stay off, the streets and begin their journey towards recovery and a stable, secure life. They help those who are socially and financially excluded from society to re-develop trust in others, confidence in themselves and support them to get their lives back on track. We do this through an integrated service of crisis support, advice, recovery, learning and training programmes.
SHCJ has given a grant to help pay for the staff who run the charity's vital Food Distribution Service to support 800 clients over the year. This project directly addresses food poverty/ insecurity for people experiencing homelessness and through the provision of healthy nutritious food, engage them to address their immediate complex physical and mental health needs, and support them on a pathway to recovery and long-term resilience to live a life away from homelessness.
"The generous grant received from the Society of the Holy Jesus CIO will allow us to continue in our work to support people in times of crisis, providing a safe space, food, warmth and access to advice & support."  Maria O'Donoghue - Head of Corporate and Community Fundraising

ReadEasy

Read Easy provides free, confidential, one-to-one reading coaching for adults, from trained volunteers, through locally-run, affiliated volunteer groups. There are over 2.4 million adults in England alone, who struggle to read Many of the adult Readers who come to us did not or could not access education at the usual age. No two Readers share the same journey; some were in and out of foster care, while others have severe dyslexia, ADHD, or other learning differences. The life changing effects of learning to read cannot be underestimated. By helping people learn to read, their employment opportunities as well as their ability to support their families grows exponentially, allowing some to take their first steps out of poverty. Our mission is to ensure that every adult in the UK is able to read and fulfil their human potential
The grant provided by SHCJ will allow us to sustain, manage and grow our transformational work helping adults learn to read and fulfil their potential to lead a full human life with dignity. They now have 58 affiliated groups across England, with a further 22 groups in development, with a total of just over 1,400 volunteers in positions as Management Team members, group Coordinators or Reading Coaches.
"It is shocking that 2.4 million adults in the UK cannot read at all. This impacts on all aspects of their lives for example, they struggle with road signs, household bills, menus, and letters from school. Many cannot read to their children or grandchildren – and the problem is getting worse. Often the impact is even more profound, leading to entrenched inequality, unemployment, under-employment, and a lack of opportunity. The generous support from SHCJ enables us to support and empower Readers, with our 1:1 volunteer model, with c.1,000 people currently learning to read with volunteer coaches." Carla Priddon -Chief Executive
Other charities supported
You can view a list of some of the other charities that  we have supported.
Contact Us
If you have any questions for us please make contact with our Grants Administrator via our online form